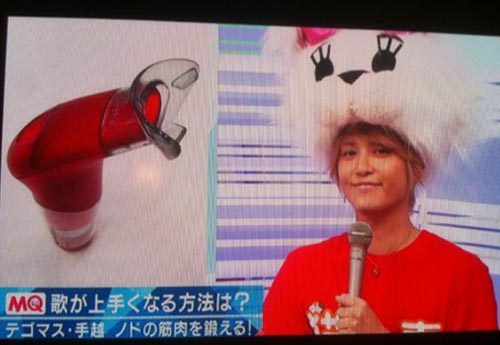 Texto extraído de POWERbreathe
'Music Station' is a Japanese television programme that's broadcast weekly and is where many Japanese groups and singers make their debut performance. It was sheer good fortune that someone from Entry Japan, our POWERbreathe friend and distributor in Japan, happened to be watching the programme when Japanese singer and heart-throb Yuya Tegoshi appeared alongside a picture of the POWERbreathe he uses!
Yuya Tegosh, aged 25, is a member of the pop group NEWS, Japan's answer to One Direction, and self-proclaimed worst dancer, but he is considered one of the best, if not the best, singer in the group.
In 2006 he and a band mate formed the singing duo Tegomass. Together they recorded a song entirely in English which they released as a single in Sweden - it reached no. 12 in the Swedish Charts!
Listen to Tegomass's most recent single, Sayonara ni Sayonara.
'Music Station' is similar to the UK's Top of the Pops and we're delighted to see rising star Yuya Tegoshi performing and talking about POWERbreathe. Sadly we're unable to find a video clip of the programme but do have a photograph of the actual moment Yuya appeared during broadcasting talking about his POWERbreathe (see above).
Best wishes goes to Yuya, NEWS and Tegomass, and a big thank you to Entry Japan for sharing this news with us all.
For more fantastic news about POWERbreathe for singers, have a look at Fakhrul Razi's success at this year's World Championships of Performing Arts in Hollywood.
Find out how POWERbreathe could be beneficial as part of your vocal exercises and vocal warm-up, or if you're a singer and are already using POWERbreathe to help with breath control, then please leave a comment here or on the POWERbreathe Forum, Facebook or Twitter as we'd love to hear from you. You can also read more about POWERbreathe and the use of Inspiratory Muscle Training in Performing Arts on our blog.